Fly with panoramic views using multiple monitors on a LAN
for Flight Simulator X | FSX Steam | Prepar3D (32+64) | ESP | FS2004
---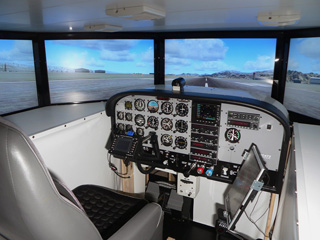 WidevieW is a Flight Simulator add-on that can be used to create virtual cockpit with panoramic scenery view, up to 360°, using multiple monitors on networked (LAN) computer. There is no limit on how many PCs can be linked together, and each of them can be configured to show scenery, maps, Spot Plane or Tower view. View angles and zoom factors can be easily customized, to get images merging perfectly between the monitors or video projectors.
Widetraffic is an optional module for WidevieW which ensures AI and multiplayer traffic synchronization throughout the local area network (LAN), so the same airplanes fly at the same time and place on every computer. Since version 1.2, Widetraffic synchronizes also the airport vehicles and, thanks to a distrubuted client and server processing, improves the performance of Flight Simulator when lot of AI Aircrafts are displayed.
Get rid now of the limitations of multiple monitors connected on the same computer and use your LAN to expand your cockpit until space and budget allows! Compatible with Flight Simulator X, FSX Steam Edition, Prepar3D (both 23 and 64bit releases), Microsoft ESP and FS2004.
DOWNLOAD WidevieW and Widetraffic | PURCHASE WidevieW and Widetraffic
Sample WidevieW cockpit built by users, using WidevieW to get a panoramic scenery view through multiple monitors on a LAN. More WidevieW pictures here.
Turnkey Flight Simulator by FSC
My own cockpit | Hardware specs

---

Courtesy of Steve Ferris.
CBT Flight Simulator by Flight Simulator Center

---

Courtesy of Peter Koller.
Courtesy of Jaap Both.

---

Courtesy of the Wingspan team.
Courtesy of Gerard Salden.

---
DOWNLOAD WidevieW and Widetraffic | PURCHASE WidevieW and Widetraffic
WIDEVIEW MAIN FEATURES
Adds multi monitor support to Flight Simulator X including Steam Edition, Flight Simulator 2004 - 2002, Microsoft ESP and Prepar 3D (both 32 and 64 bit releases), through networked computers for panoramic scenery views in the LAN
Compatible with Flight Simulator 2004, Flight Simulator X, FSX Steam Edition, Prepar3D 32bit versions, Prepar3D 64bit versions, Microsoft ESP
Mixed configuration supported (for example, server Prepar3D for instrument panel, clients FSX for cheaper licenses)
WidevieW Control Center provided to configure Flight Simulator and WidevieW easily and quickly (external program for 2002 and 2004 version; integrated into Flight Simulator for Flight Simulator X and Prepar3D version)
Works with map view (one of the clients in the LAN may show a permanent view from top)
Can be used to display spot plane or tower views permanently on one or more LAN computer
Spot plane views can be spanned onto multiple networked monitors, having for example the wings on lateral monitors and keeping the animations, like landing gear, flaps, etc., synchronized with the entire LAN (FSX / ESP / P3D only, not guaranteed to work with every add-on aircrafts)
Compatible with computers having dual head video cards or multiple video outputs (to reduce the total number of PCs required)
Remote hat switch function (reorient remote views throughout the cockpit with a single mouse click or , in FSX / ESP / P3D only, by keyboard and joystick / yoke hat / POV switch)
Works with 3Dconnexion 3D mice through optional fs6DOFware module, to add full 6DOF (degrees of freedom) camera movement, synchronized throughout the LAN (FSX, ESP, P3D 32bit only);
Aircraft profiles to customize view alignment for each aircraft installed in your system
Works with custom cameras, to switch the view simulataneously on all the clients and to get multi monitor Spot Plane view (FSX / ESP / P3D only)
Works with TPC/IP or IPX protocol, supporting multiple network adapters on the same computer
Low bandwidth required: works also on older 10mbits networks based on coax cable. Compatible with 100 and 1Gb networks
Works in any release and edition of Microsoft Windows, 32bit and 64bit, including very old Windows XP to latest editions. LAN computers may have different editions of the operative system.
Supports multi-core / multi-processor platforms (FSX / ESP / P3D only) to distrubute load on different user's selectable cores
Configurable joystick / yoke buttons to provide simultaneous camera switching on the computers and to re-orient the view interactively (FSX / ESP / P3D only)
"Intellismooth" option provided to let the clients to always run at their maximum possible speed, even if the server is very slow. This option builds missing frames dynamically, letting to get smoothest clients regardless of network and server's speed (FSX / ESP / P3D only)
AI and multiplayer aircraft traffic synchronization throughout the LAN provided via optional Widetraffic module (FSX / ESP / P3D only)
Supports Level-D 767 custom lights on clients (FS2004 only)
Trial mode available
User's friendly interface to configure all the options
Compherensive user's guide (more than 70 pages)
WIDETRAFFIC MAIN FEATURES
Synchronizes most airport vehicles, AI and Multiplayer aircrafts throughout the LAN, the perfect complement for any WidevieW based cockpit, see the AI aircrafts and the airport vehicles moving from a monitor to the next, as they would come from a single computer
Compatible with Flight Simulator X, FSX Steam Edition, Prepar3D 32bit versions, Prepar3D 64bit versions, Microsoft ESP
May improve the overall system performance, due to client / server distributed tasks (server handles path and flight dynamics, clients handle just the aircraft's shape and rendering)
AI traffic update frequency can be decreased in favor of own aircraft and global scenery smoothness
Can use the same network cable used by WidevieW or can be configured to use a secondary network card for additional performance
Compatible with most third parties AI aircraft packages, including custom schedules, aircraft models and textures
Supports mixed FSX / ESP / P3D / FSX Steam configurations as long as aircraft library is the same
Supports multi-core / multi-processor platforms, users may select on which core the load should be applied
Dozens of user's configurable settings to fine tune aircraft quantity, performance and behaviour
Synchronizes most AI aircraft external animations (landing lights, landing gear, flaps and more)
Trial mode available
---
Please visit my TRAVEL web pages also!
---
Copyright © by Luciano Napolitano - All Rights Reserved.