Control views in Flight Simulator by 3D mouse
Look around the cockpit naturally using a 3D mouse in Flight Simulator
---
fs6DOFware is a software letting to use 3DConnexion 3D mice in Flight Simulator, to add full 6DOF eye movement, improving flight experience, as you can freely rotate and translate your head to see, left and right, or up and down, using only one control and without have to remember tricky keys on your keyboard or buttons on your joystick. Use a 3D mouse in Flight Simulator to rotate and translate the eye point instantly and in a very natural way.
This package is the software only and does NOT include the 3D mouse. To buy a 3Dconnexion device, please visit http://www.3dconnexion.com/ (fs6DOFware has been currently tested with 3Dconnexion SpacePilot Pro, SpacePilot, SpaceNavigator, SpaceExplorer 3D mice models).
To download fs6DOFware for Flight Simulator X click HERE (software only)
To download fs6DOFware for Microsoft ESP click HERE (software only)
Works in trial mode for 10 minutes per flight session.
To purchase a serial number for fs6DOFware and unlock this limitation, please click HERE (software only)
How to use a 3D mouse in Flight Simulator
Sample uses of SpaceNavigator 3D mouse in FSX, Steam and ESP. Fs6DOFware is also compatible with 3Dconnexion SpacePilot Pro, SpacePilot, SpaceExplorer 3D mice models.
Rotate left and right to see out of the windows...
Rotate up and down to see the clouds or improve the visual over runway during landings...
Bank left and right to see the ground below the aircraft...
Move left and right for a better vision of co-pilot's side instruments...
Move up and down for better views onto overhead panel and central pedestal...
Move back and forth for better outside view or to get a passenger's view...
In addition to single computers, fs6DOFware can be used also on a LAN onto a WidevieW system, just connect the 3D mouse on the server PC. When a 3Dconnexion mouse is used in conjunction with fs6DOFware and WidevieW, the views on the clients can be adjusted simultaneously throughout the cockpit, without losing the view alignment. IMPORTANT: if you are using multiple video outputs on the same computer (not in a "WidevieW" system), please be aware that due to limitation of Flight Simulator camera, only the primary view (view00) can be rotated by fs6DOFware software.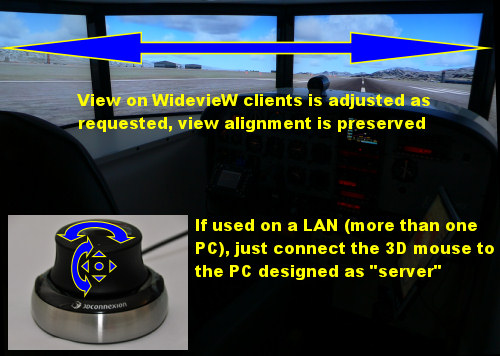 fs6DOFware Main Features
Compatible with Microsoft Flight Simulator X, FSX Steam and Microsoft ESP (Flight Simulator ESP)
Control Flight Simulator eye point with a true 3D mouse, having six directions of movements
Tested with 3Dconnexion 3D mice (currently with SpacePilot Pro, SpacePilot, SpaceExplorer, SpaceNavigator)
Compatible with Windows XP, Vista and Seven in both 32 and 64bits editions
Available in trial / demo mode
Rotate Flight Simulator eye point instantly, with only one control, without have to remember tricky key combinations for each direction
Full 6DOF supported (degrees of freedom): supports camera's pitch, heading and bank rotation, plus left/right, up/down, back/forth translation
Works in conjunction with WidevieW to reorient the view on all the computers of the LAN simultaneously, without breaking the horizon line (requires WidevieW X 3.2 or later)
View can be reset instantly to default position through a user's defined 3D mouse button
Buttons on the 3D mouse can be programmed for custom functions or to activate Flight Simulator actions (like gear extension, switch a view, activate pause, and much more!)
Each axis can be enabled or disabled, inverted, and is possible to fine tune sensitivity and null zone
Custom 3D mouse calibration provided to increase precision
No additional software required, fs6DOFware works via raw input directly from the device
Easy to install, ready to use in minutes!
Please note: due to a known limitation of Flight Simulator and ESP, fs6DOFware controls the eye point only on the primary view (view00), it cannot control eye point on views different than primary
---
Copyright © by Luciano Napolitano - All Rights Reserved.